McLaren Racing Collective
COLLECT THE McLAREN RACING DIGITAL COMIC
COLLECT THE McLAREN RACING DIGITAL COMIC


Collect McLaren Racing's first ever digital comic book! Each digital collectible comes with the chance to win prizes. Visit the Utilities tab for more info.
Learn More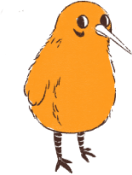 COLLECT ALL 7 PAGES, EARN A PHYSICAL COPY
About

McLaren Racing Collective presents Kiwi's Caper

Speedy Kiwi, McLaren's Head of Speed, has gone missing! Buy our seven-page digital collectible drop to read the full adventure. Collect every page to redeem a real-life version of the comic! Each digital collectible comes with the chance to win prizes. Purchase any of the seven digital collectibles to be invited to a virtual briefing with McLaren Racing CEO, Zak Brown.

Getting Started

Step

1

Join our community of McLaren fans on Discord to keep up to date with the latest info about this drop.

Step

2

Collect each page of the comic to follow Speedy Kiwi on his adventure through Asia.

Step

3

Redeem prizes and rewards, including a physical version of the comic! See our Utilities tab for more details.


The McLaren Racing Collective, powered by Tezos, is an innovative platform where fans and collectors can purchase McLaren Racing digital collectibles or non-fungible tokens (NFTs). The driving force behind what creates unique experiences discovered through NFTs is the recent technological advancement of open-source blockchain networks. Tezos is one of the fastest growing blockchain ecosystems and a pioneer of Proof of Stake technology, a more energy-efficient mechanism to secure blockchain networks. Tezos, an Official Technical Partner of McLaren Racing, delivers the speed, reliability, and security that is trusted by McLaren Racing to power the McLaren Racing Collective. To learn more about Tezos, visit Tezos.com/discover today and begin your own blockchain journey.